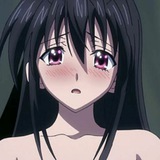 High School DxD and other anime
We are basically a fan group of high school DXD.. this channel is just in addition to my youtube account. Come join us and get info about latest dxd releases!!!
---
You need to like or dislike this entry before submitting a review.
Reviews (5)
Well all i can say is admin is doing amazing job... Its nice to have people's to talk about anime because the place i cam from no body watches anime
---
Well i really do enjoy this channel and the people in it are very helpful also they have good taste in anime which is a plus.
---
The channel give the information very correctly and also very active in the community
---