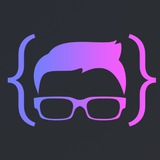 TheFrontEnd
Articles, News, Tutorials, UI/UX thoughts on front end, mobile, and web dev. ‌
---
You need to like or dislike this entry before submitting a review.
Reviews (15)
Have got a lot to learn from this channel.. best ever technological channel
---
great channel to know trending front end things , will also update developments around . non boring , always surprise the people. no ads it is the best thing , non commercial too.
---