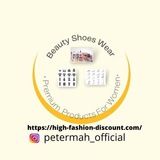 Beauty-Shoes-Wear For Women
We hope to provide you premium quality beauty products, shoes, and wear accessories at affordable prices. If anyone wants to discuss any product they can feel free to DM me. Let's make this group accessible for all the women who can't spend hours browsing through the website to find quality products. This group will not only save your time but also save your money.
---
You need to like or dislike this entry before submitting a review.